ANM Fuse Holder Description
Use with HINEW fuses up to 500 amps. Ideal for battery and alternator connections and other heavy gauge cables requiring ultra high current protection. Includes protective cover. Features interconnecting pins on side of fuse block for secure multiple block configurations. Includes M8 threaded studs and hex nuts with lock washers. Fuse not included.
Specifications Overview
Max Fuse Rating: 500A Voltage: 32V Mounting Torque: 5 Nm Studs: M8 threaded Included Hardware: Hex nuts with lockwashers Electrical:MAX 300A 60V dc Application temperatures:-40℃ to +125℃ Fuse Mounting:M8 Threaded Stud and Hex Nuts Torque Requirements:M8 Nut 19± 1Newton meters Material:Pig iron nickel plating Insulator material:PA66 Dimensionless Units:mm Dimension Tolerance:±0.25
Applications
•Body Builders •Medium Duty Vehicles
Features and Benefits
•Interlocking pins for connecting multiple blocks to fit your application. •Includes M8 hex nuts and lock washers •Uses MEGA fuses for protection between 40A and 500A.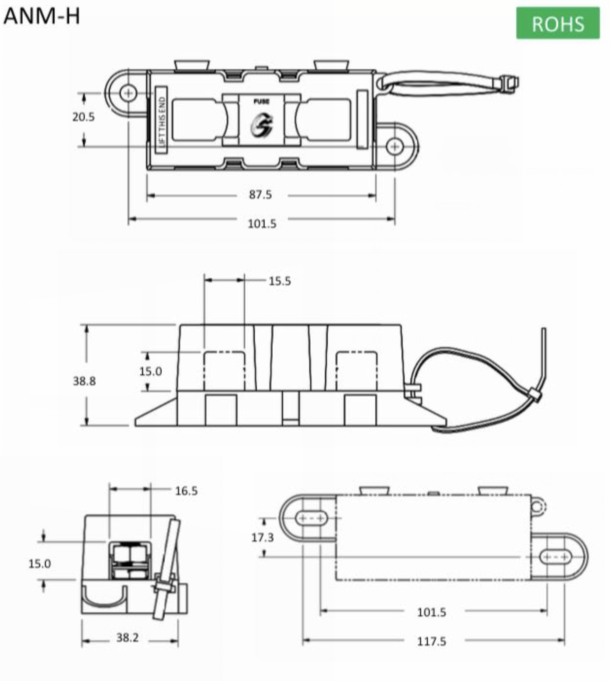 Where is the fuse box? Where is it?
There are about three conditions for the position of the car fuse seat:
Case one:
Under the hood, near the battery.The main circuit protecting this part of the locomotive.
Second case:
Is in the steering wheel on the left, that is, the left door open, stick to the door of the front of the place has a cover, open is the fuse total range, there are some cars under the steering wheel, there is a cover, a fuse box can be seen, this is the main protection of the electric circuit in the car.
The third case:
It is the left or right of the rear, specific to the model, we did not statistics, their own open to find, this piece is mainly to protect the rear circuit. If the fuse blows and you need to replace the fuse, see what kind of circuit you are disconnected, go to the three landlords I mentioned and look for the fuse box, find the corresponding fuse and replace it. To the friend that needs to take electricity, the fuse box that you search also is these 3 locations.